This branding project enabled the River Arts District Artists, representing over two hundred individuals, to market themselves cohesively. I interviewed twenty artists at random to identify common values and problems, using the information to define the community's characteristics.
The River Arts District artists make their studios in former industrial and historical buildings by Asheville's French Broad River. With their media ranging from basketry to paintings to ceramics and a myriad of other materials, the association of artists struggled to find unifying qualities for the district's marketing.
The goal of my work with the River Arts District Artists was to find a way of aligning public image with the personality of the district. The working artists' studios, which often included selling spaces, were neither polished galleries nor craft fair booths, yet they suffered from misconceptions related to both of those models. Tourists were caught off-guard by irregular studio hours and artists complained that they were often interrupted at work. To better communicate the personality of the district and attract quality buyers, I first needed to find out how this loosely associated group of artists wanted to be portrayed.
I randomly selected a sample of twenty artists to interview, and from analyzing the results I identified themes related to Visitor Disconnect, Environment, Experience, Community and Diversity. I concluded that more should be done to attract adventurous buyers by encouraging visitors to view the experience as a treasure hunt. By framing the River Arts District in the context of its history, its value could be better communicated to visitors.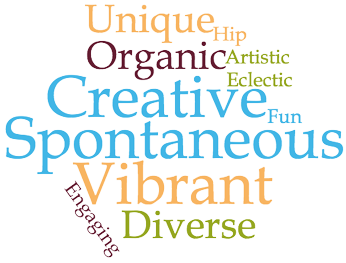 My recommendations included making marketing materials consistent, describing the history of the district, drafting visitor etiquette guidelines, and defining the words and ideas that could be used to market the district. Now that the River Artist District Artists have a unified message, more visitors have rewarding art-buying experiences.