Website Development & Email Marketing
For 6 years I increased sales as McLarry Fine Art's online marketing director. I designed and developed a website for the gallery featuring full-screen, responsive images to enhance the remote buying experience, fueled by email campaigns with dynamically generated content.
McLarry Fine Art is one of the most prominent galleries in Santa Fe, New Mexico, the city with the third largest art market in the United States. The gallery represents traditional artwork from over 30 artists across North America. For 6 years, I increased sales through email marketing, website improvement, social media and online promotion as their Online Marketing Director.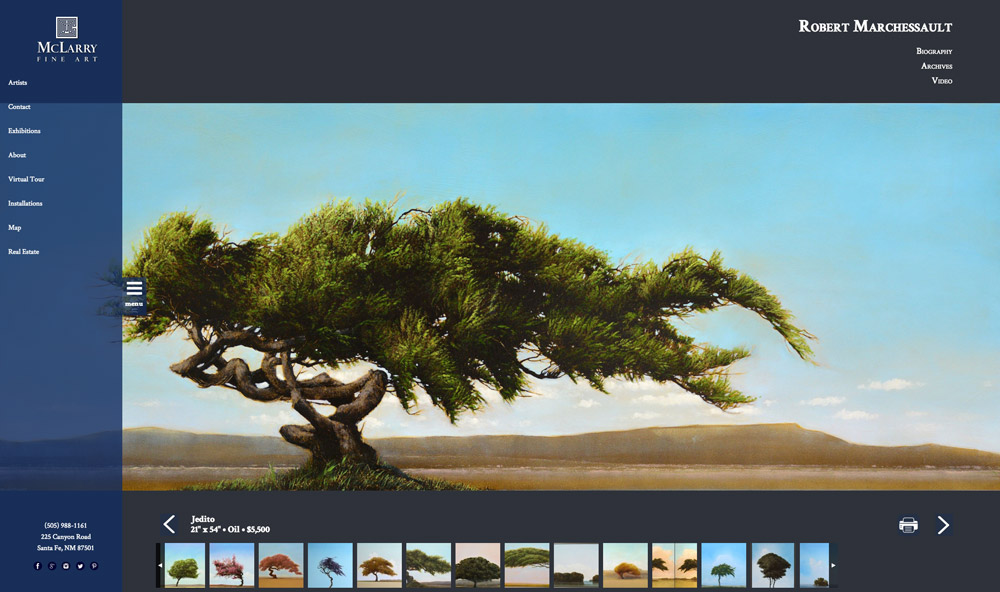 One of my biggest projects for the gallery was designing and developing a new website. I reinvented the gallery's website to reflect the high quality of artwork being displayed. Full-screen images encouraged collectors to discover new work from their phones, tablets and computers. Artists were featured with images of available and sold work, biographies, article archives and videos. The responsive design allowed for an enjoyable browsing experience to keep collectors coming back on their phones and tablets.
I drove traffic to the website through email marketing and social media, including Facebook, Pinterest, Twitter, Instagram and Google+. Email campaigns were a huge source of sales. Website visits from email campaigns increased by over 400%, and I was awarded by Constant Contact for "significant achievements leveraging online marketing tools". In addition to emails announcing upcoming exhibitions, I developed an Artist Watchlist, which enabled me to send dynamically generated content specific to each contact's interests. This enabled me to send one monthly email announcing all the new work that had entered the gallery, and the recipients only received the specific content that they had expressed interest in. These targeted emails generated much higher engagement than general newsletters.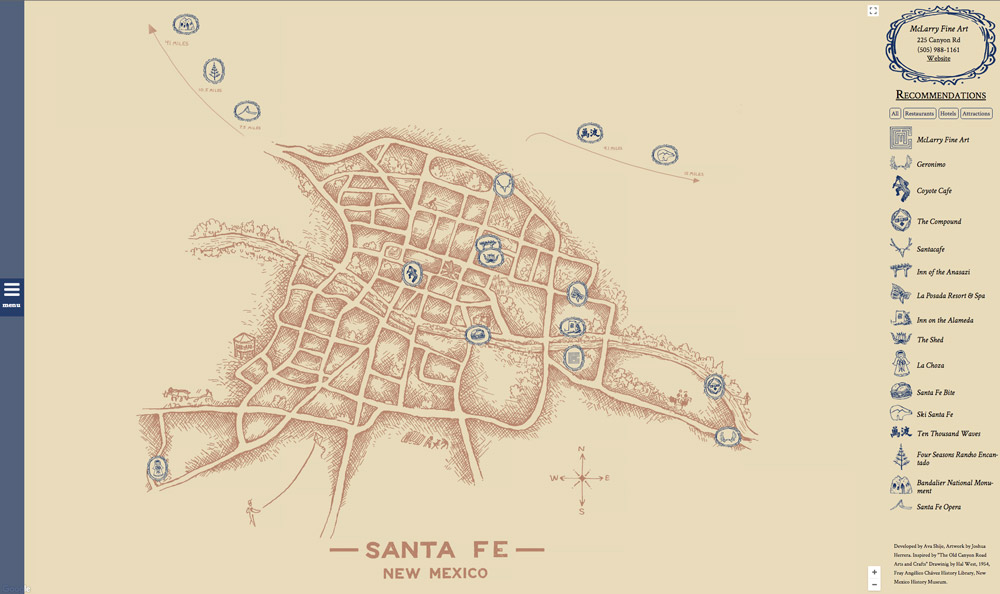 Since most of McLarry Fine Art's visitors are tourists, I worked with a Google Photographer to feature a virtual tour of the gallery on the website and on Google Maps. I also developed a map for visitors to Santa Fe highlighting the gallery's recommendations for food, lodging and attractions. Javascript and APIs from Google Maps and Google Places powered the interactivity of the map, and I worked with the New Mexico History museum and a local artist to make the artwork consistent with historical Santa Fe documents.