Communicating with Customers During COVID-19
Ok, business owners and managers, listen up! We know you have been working hard during coronavirus to keep up with all the changes – but your customers are still out there and are looking for you online!
Take some time to reconnect with them. Update them about your status, and tell them how they can still do business with you. 
Staying active online applies to all businesses, especially businesses that are temporarily closed. Luckily, you have a plethora of digital communication tools at your fingertips to help you stay in touch.
To help you reconnect with your customers during the coronavirus craziness, we've put together a guide on how to reach your customers and what you should be telling them. Plus, we have some examples from Santa Fe and Albuquerque businesses that are getting it right.
Scenario 1 – Your Business had to Close
Nobody Likes Being Ghosted
When we first got the news that business had to close it was unfathomable and devastating. The closures were immediate and we were caught off guard. It's ok that you forgot to change your voicemail or didn't update your website — but some of you just locked the door and walked away.
You know that friend who just stopped texting you and disappeared from social media? It left you confused, then worried (Are they sick? Did they die?). Maybe you were even a little hurt. Closing your business without a peep is the same thing. Establishments who did it right said goodbye and hinted at their intentions to return.
Even though Cafe Casto, (Santa Fe) could have stayed open for takeout, they decided to close. Their announcement wasn't big or flashy. It was just a simple Facebook post, but it was clear that the information was appreciated. The simple post got strong customer engagements including many comments and well-wishes. [Update – Cafe Castro is now open for takeout].

Pro Tip: If you use Facebook to make announcements regarding closing, revised hours, or other things that reflect a big service change, Pin the post to the top of your page.
Closed Doesn't Mean Quiet
If you are closed, continue your social media presence. It reminds people you are still out there. Your social media should already be a mix of "social" (non-sales) content and "sales" type posts, but if you can't sell, you may need to get creative with your post content.
Many places are seeing success with sharing their business stories — how they got started, funny or interesting behind-the-scenes tidbits, a favorite recipe (for restaurants and folks selling food items). Tell them how you're doing and what your plans are for re-opening.
While Albuquerque Florist was closed, they kicked off a "virtual bouquet" series with a Facebook post saying, "While we can't send you flowers right now, we'll be online sharing some of our favorite flower art."
The series initially shared great works from artists of the past, but the florist teamed up with some New Mexico galleries (also closed) to feature flower art by artists in the Southwest.
When the florist re-opened, they had a ready audience on Facebook to get the news.
Pro Tip: It's an excellent time to engage with your audience and to listen. Social media usage is up and page followers are liking and commenting more. Listen to what they have to say. Respond to their comments and don't forget to thank them for their business and support.
You can even start the conversation with posts that ask questions. What is your favorite product? What product or service do you wish we would offer? Be sure to check your tone and keep the questions conversational.
Scenario 2 – Your Business Stayed Open or Re-Opened
Let People Know You Are Open
This sounds crazy, right? "Everyone knows we're still open," you say. Sadly, we beg to differ. People aren't driving-by as much. They don't see that open sign or the cars in your parking lot.
Those who are more motivated to do business with you check their phones for signs of life at your establishment, but so many places haven't updated their open-status, so who can trust that? After that, they try to call and there is no answer. If they are lucky, they get a voicemail that hasn't been updated since you opened 20 years ago. (This may have even happened to you). It's frustrating and a poor customer experience.
Now that we're a couple of months into this coronavirus thing, it's time to let your customers know that you are open and what you have to offer (like takeout, curbside pickup, online ordering, free shipping…)! This goes double for businesses that re-open.
Tell People What's Different
Business operation during COVID-19 also means changes in hours and procedures. If you're doing something different (like closing early), make sure you tell your customers! A little head's-up can go a long way toward meeting customer expectations.
Savvy businesspeople are using all their digital channels to stay in touch with clients, but at minimum, update the channels most of your customers use. We also recommend updating your website and your Google My Business information.
Update Your Website the Easy Way
Sometimes updating your website can be a hassle. A quick, easy, and free way to update your website is to use a static banner or a pop-up (via a WordPress site).
 Hello Bar is a free (up to 5,000 views per month) application that lets you quickly add a customizable banner to your website. If you have a WordPress website, try a pop-up plugin like PopUp Maker. Also, some website themes have built-in banner or pop-up capabilities.
At the start of the coronavirus restrictions, Papa Felipe's (Albuquerque) got a flood of calls, emails, and Facebook messages asking about updated hours and offerings. The number of phone questions interfered with people trying to call in takeout orders.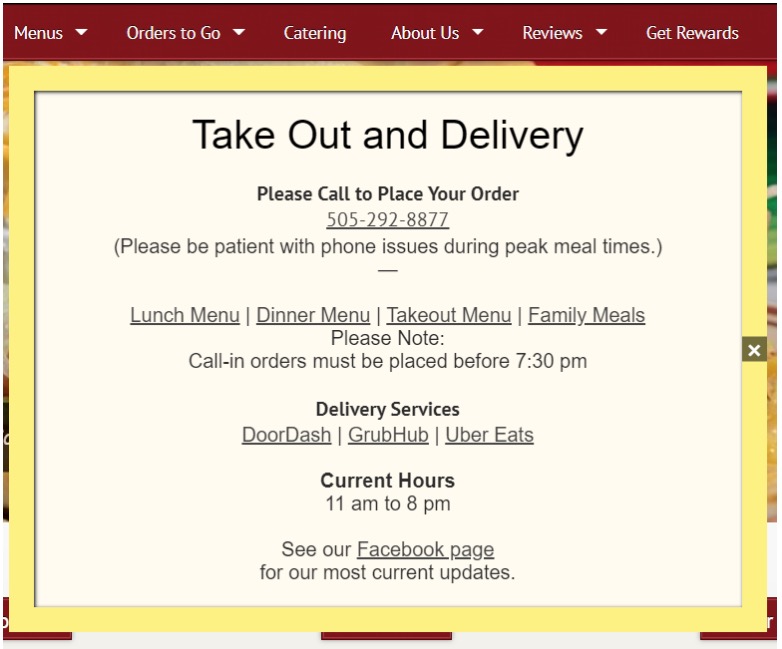 To solve the problem, they used PopUp Maker on their website to put all their important changes on their homepage. It has a click-to-call phone number for easy ordering and links to their streamlined-for-covid menus. It lists current hours and order cut-off times. Plus, it alerts customers about delays during peak call times. 

Pro Tip: You can also set up your business Facebook messenger to send a pre-programmed instant reply when someone initiates a conversation. Papa Felipe's programmed this feature to push answers to many of their customer's FAQs, such as current hours and menu links.
Scenario 3 – Your Business Offerings Have Changed
Are You Doing Something New?
There has been a lot of chatter about how entrepreneurs are pivoting and capturing new customers despite the COVID-19 restrictions. If your business is doing something new, let folks know. Even if you're not turning your distilled alcohol into hand sanitizer, people still want your products and new services. (Hint: people are home and have time to shop online!)
Zenbox Marketing worked with Art.i.fact, a high-end consignment shop in Santa Fe, to transform their brick-and-mortar business into an online shop.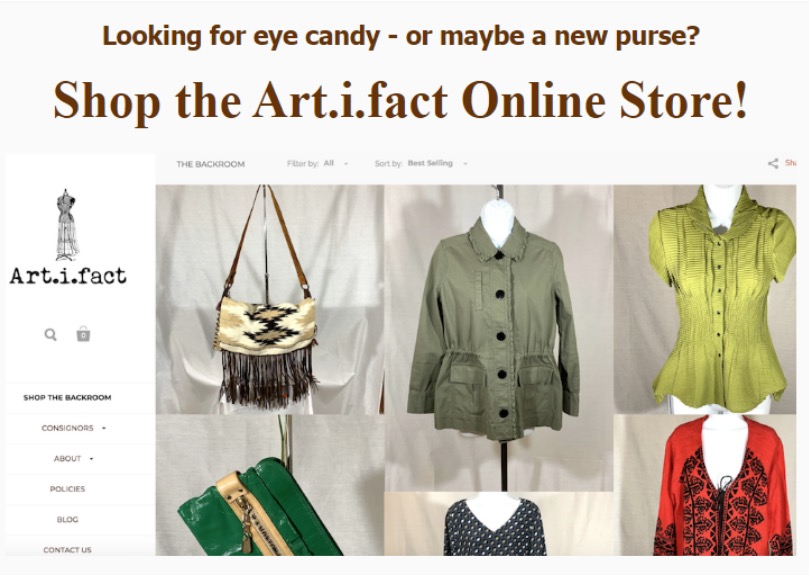 Their online store, "The Backroom," became Art.i.fact's main gallery during COVID-19 closure. They accepted new consignments via curbside pickup for everyone who was going through their closets and updated their online store with new arrivals. Now that they have re-opened, Art.i.fact has several safety measures in place, including private shopping appointments to make shoppers feel comfortable.
As well as posting offerings on their social media channels, Art.i.fact let their existing customers know about new additions to their online store and everything it was doing to adapt to the times through their email newsletter.
Pro Tip: Don't think of your email just as a send-and-done task. Use links to your most recent newsletter and newsletter archive to reach more readers and to encourage new subscriptions. Some email services like Mailchimp even have a social share feature to make it easy.
Changes Yet to Come
COVID-19 has affected all businesses in some way. As business owners, we've all been scrambling to keep up and adapt. It can be dizzying at times, but why are we in business if not for our customers? Stay in touch with them and let them know how they can do business with you.
We encourage you to use and explore your digital communication tools and to regularly engage with your customers. At a minimum, keep up with important announcements and update the digital channels your customers use the most.
Important things to Update and Announce
Are you open, re-opening, or closed
Are you offering takeout, delivery, shipping or pickup
Do you have different hours (including cut-off times for ordering and delivery)
Do you have new products and offerings
What are your health and safety guidelines
Digital Communication Channels to Keep Updated
Your business website
Google My Business
Bing Places for Business
Social Media: Facebook, Instagram, Twitter, etc
Review Sites: Yelp, TripAdvisor, Industry-specific review sites
Delivery Sites (for restaurants): DoorDash, GrubHub, Postmates, Uber Eats, etc
Top Channels. Best social media channels may vary by audience or industry.
What About You?
What ways have you found to keep your customers updated? Let us know in the comments below.
————————————-
Brandie is a search engine specialist. She credits her former career as a newspaper and magazine journalist for nurturing her curiosity and making her great with deadlines – both attributes she uses daily.
As well as collaborating with marketing agencies, like Zenbox Marketing, Brandie also works with small and medium-sized businesses, helping them find a clear and compelling online voice.