If you're accepting a job in marketing for a non-profit organization, you'll quickly realize that it requires a broad range of digital marketing skills. For a single person tasked with many marketing and communications roles, the responsibility can feel overwhelming.
Can you gain meaningful results for your non-profit organization through digital marketing? YES, you can increase donations, awareness and community involvement. This requires setting aside focused time to give each task the focus it deserves. 
The problem is, many people eagerly watch a few videos about specific skills like keyword analysis or Facebook advertising and then lose their enthusiasm. The digital marketing journey requires dedication. Start with at least 10 hours a week of time dedicated to your organization's online presence. If you're able to commit to this journey, then read on.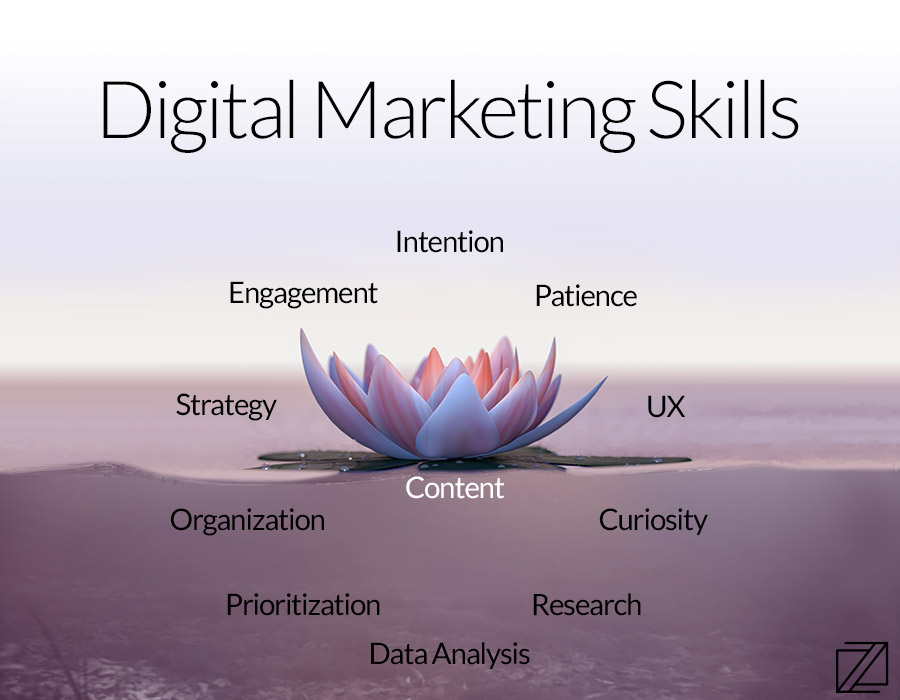 Consider the symbolism of the lotus flower. Its roots are in muddy water, but it reaches toward the light to produce something beautiful.
Owning your digital marketing is like plunging into the murky waters of uncertainty. At first you'll struggle and you may even find things that make you cringe. Then you'll gain new knowledge and discover new passions.
Along the way you'll learn to use the tools available to you and explore new ideas. Perhaps your instincts and assumptions don't hold up to the data you uncover. You may even decide to change elements of your strategy.
Finally, you'll emerge with a greater understanding of how your business brings value to people. Digital marketing will be a source of real connection with your customers, and you'll be able to engage with them like never before.
11 Digital Marketing Skills
Intention
Start by committing dedicated time each work day to digital marketing. Plan to dedicate two hours each day. Set just a few main goals and track your progress. Evaluate your resources and make a realistic plan. Completing a wide range of tasks is more impactful when they funnel to a common metric. For example, if you have a sign-up page, you can post a link to several social media channels, an email newsletter, and an ad, and measure the effectiveness of each. 
Patience
If you dedicate enough time and approach each task methodically, then you will excel in any marketing channel you choose. Don't fall into frustration. Remember, this is a job for an entire team of people. Celebrate each small victory. Taking the time to listen and make meaningful interactions is why you took this job.
User Experience (UX)
Before you dive into any fancy analysis tools, it's helpful to walk through the online experience you're providing. Pretend to be one of the people your organization serves and complete the entire process online. Go all the way through from landing pages to completing the goal. What did you learn simply through this role playing exercise? 
Curiosity
Curiosity is great for relationships, especially when it comes to building relationships with your constituents. Are you curious about the people you're helping, the problems they're facing, and how your messages come across to them? The information you glean will inform what kind of content you put out there. You'll become a relevant and trusted participant in the online conversation.
At this point, we're plunging into the unknown in hopes that our research and data analysis will provide us with the answers we need to make informed decisions that will make a real impact. Curiosity will spark the questions to direct our research.
Research
Take your questions and run with them. Never stop pursuing your question until it leads to a new question. You may even achieve the bliss of working in a flow state as you devour information and find new information relevant to your industry. Immerse yourself to discover the real landscape your organization is operating in. Keep a finger on the pulse.
Data Analysis
Don't shy away from data analysis. This is now regarded as one of the crucial skills marketers must have. Data will let you know what's working and where opportunities for effective content lie.
You can use data to determine the topic of your next blog post, find dropoff points in your lead generation, and obtain better search results. The more you wrap your head around your data, the more you can start layering it to understand how your digital marketing is affecting your business. Free tools like Google Analytics can help you increase the conversion rates on your organization's website.
Prioritization
Start with solidifying your brand positioning statement and then examine each component of your online presence. Think about all the paths that your current customers take to find you. It's better to have a consistently wonderful web presence than to be sparse on several social media platforms. Use data analysis to determine which channels are working for you. 
Organization
This skill can't be understated for non-profit marketers. Spend time creating fail-proof systems that will ensure nothing falls through the cracks. Make checklists and schedules for tasks that you'll repeat.
A systematic approach is crucial to ensure you're engaging with your customers in a timely and relevant manner. Marketing automation is your friend here. Any time you can automate a task, set it up.
Content Creation
Now that you've researched, analyzed and organized, maybe the digital landscape no longer seems so murky. Now we come to the flower of your efforts: content marketing. Your curiosity will have lead you to several topics you can write about.
High quality content will begin to flow. You can write about what's really important for your audience and further the mission of your organization.  You can use data to find topics with decent search volume that don't have much competition. All your ground work will start to pay off when your relevant content reaches the right audience.
Marketing Strategy
You've seen the data and hopefully you've been able to pinpoint some successes from your online marketing efforts so far. Take everything you've learned to make a plan. It can be broad at first, and the goal is to keep finding frameworks that you can repeat. Always leave room for experimentation.
While social media marketing gurus and other experts often have useful tips for how to improve your marketing, nothing will tell you more about what works for your audience than experimentation. Remember the scientific method? You start by asking a question, and then create an experiment that will answer your question. Marketing campaigns are perfect places to test your assumptions.
A/B tests enable you to run 2 different promotions and determine which version is the most effective. Many marketing softwares have this feature built in, including Facebook Ads. Remember to only change one element of your campaign in each test to gain clear insight. Always be willing to change your strategy.

Need help with strategy? A digital marketing agency can review your strategy, or set you up with one to follow. Even experienced marketers find value in enlisting consultants.
Engagement
If you made one person think or feel differently, then you were really able to engage that person and your effort was worthwhile. Now that you've organized and automated the activities that used to stifle your creativity, you can engage as a member of the online community. Reaching people at scale is a powerful tool that can be used for the good of your community and the world. By carefully allocating your time and resources, you can make a real difference. 
Freedom
Doesn't it feel good to be on top of your digital marketing skills? The next time you tell someone new about your business, you can smile confidently and say, "look me up online."
If you made it to the bottom of this article and decided that you'd like help with your website, then reach out. We grow websites into marketing powerhouses that will form the hub of your digital marketing strategy.